This building works to its Passivhaus principles and costs less than £100 a year to heat
The Cut, is a new-build, four-bedroom family home with stunning views over Stroud in the Cotswolds designed by the team at Charlie Luxton Design.
A tight budget and a desire for a very low energy home by clients Tara and Dimitri drove the design, resulting in a simple rectangular plan that exploits the steep drop across the site. The couple relocated from Richmond, west London, in their search for more home for their money for their growing family.
Tara said:" I was looking for something architecturally exciting, with contemporary design but also we wanted a truly energy efficient new home. Nothing we found in our house hunt through the Cotswolds with its beautiful landscapes and chocolate box cottages lived up to this dream." And so the couple chose to buy a plot of land and build their own home, and saved themselves over £130,000 as a result.
The roadside approach leads to a single-storey with a double storey to the rear, facing out to the five valleys view.
Super insulation, triple glazing in the windows from Rationel, airtightness and MVHR based on Passivhaus principles have created a building that costs a staggering less than £100/year to heat.
The concrete blocks, which provide the thermal mass and the external walls of the building, are wrapped in 300mm of polystyrene and finished in reclaimed Welsh slate and English cedar cladding. Combined with 5mm aluminium cowls this creates an affordable, simple, modern vernacular home.
The team from Charlie Luxton Design said: "When specifying the windows and doors, Rationel AuraPlus was an easy choice. We felt that the crisp, modern profiles chimed with the design intent for the project; contrasting reclaimed Welsh slate with aluminium cowls and alu-clad timber frames to achieve a contemporary interpretation of a vernacular aesthetic. Further to this, the thermal performance of the units met our near-Passivhaus targets, within what was quite a challenging budget."
Tara and Dimitri chose Rationel triple glazing and the windows were made to order, to their exact specification. Rationel windows are designed in Denmark and manufactured in Windows Village in Poland, a massive 100,000 sq m plant with high tech manufacturing processes.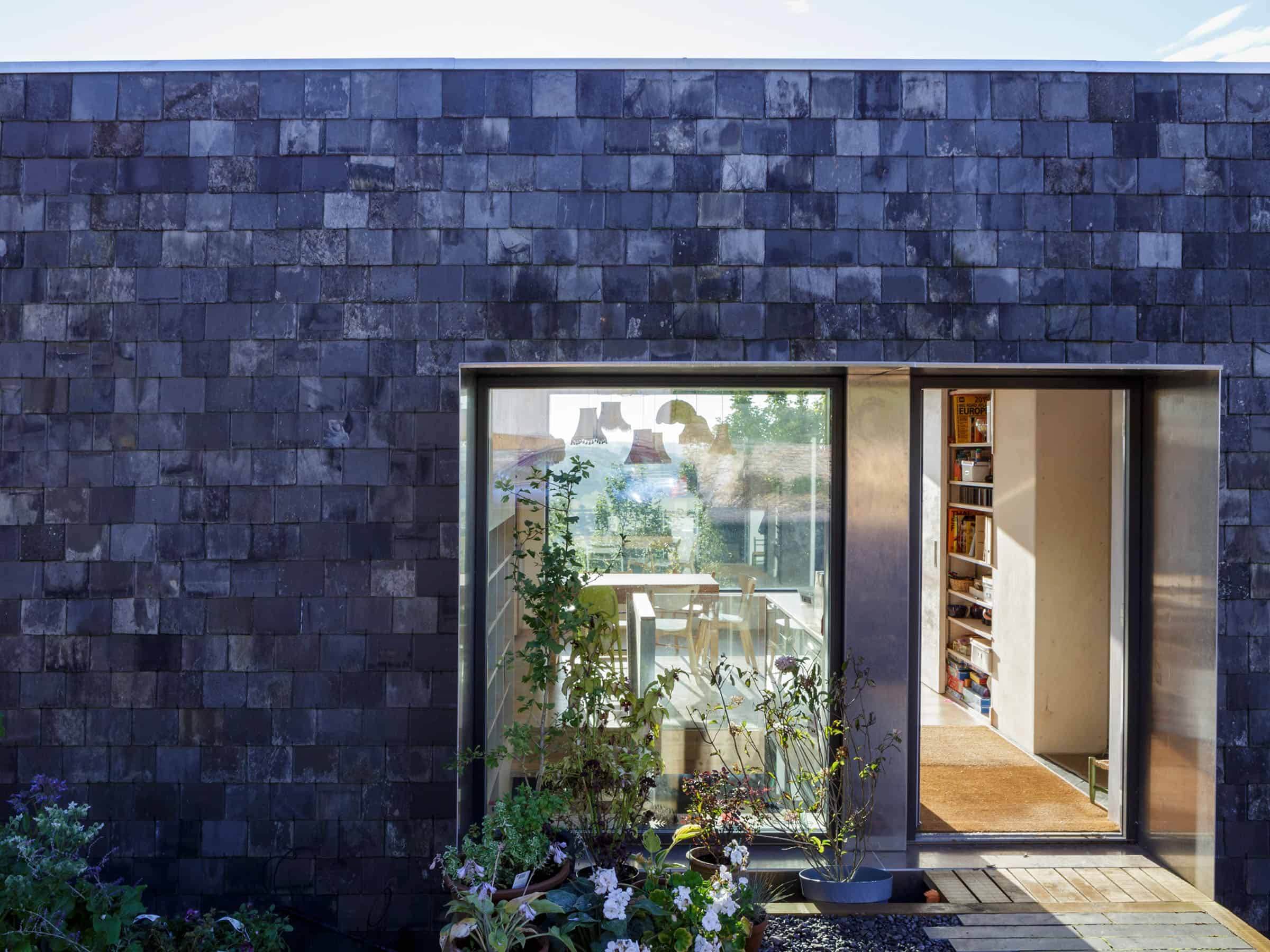 When the windows were delivered to building site, it required a massive crane to bring them into position, and then it was down to the builder to ensure they were properly installed with no air leakages.
The choice of big windows is a massive threat to air tightness. The potential heat loss from the junction between insulation needs precise installation process by the builder. Tara and Dimitri sacrificed sliding doors for one big sheet of glass with a juliette balcony door which floods the upstairs area in this upside down house, with natural light and amazing views.
But when it came to Passivhaus testing, The Cut performs extremely well, and reached less than 0.85 air changes per hour. The Passivhaus Standard is 0.6.
Internally, raw power floated cement floors are contrasted with highly finished Douglas Fir and ply joinery – challenging the idea that low energy means no style! The wonderful client documented the process, warts and all in her blog.
What is a Passive House project?
A Passive House is one that requires ultra-low levels of energy to heat or cool it. It can manage without usual heating conventions as a result, making it super cost-effective. It also tends to have consistently good air quality.
For a project to achieve the Passive House standard, it needs to meet certain criteria. It must have a high standard of thermal insulation and efficient heat recovery ventilation, as well as being highly airtight. Most importantly, its windows need to demonstrate far greater efficiency than conventional windows.
The result is an incredibly comfortable and affordable home, tranquil and snug with a low carbon footprint.
Be inspired by our case stories